HOW TO DRASTICALLY INCREASE OVERALL PERFORMANCE OF MY SME?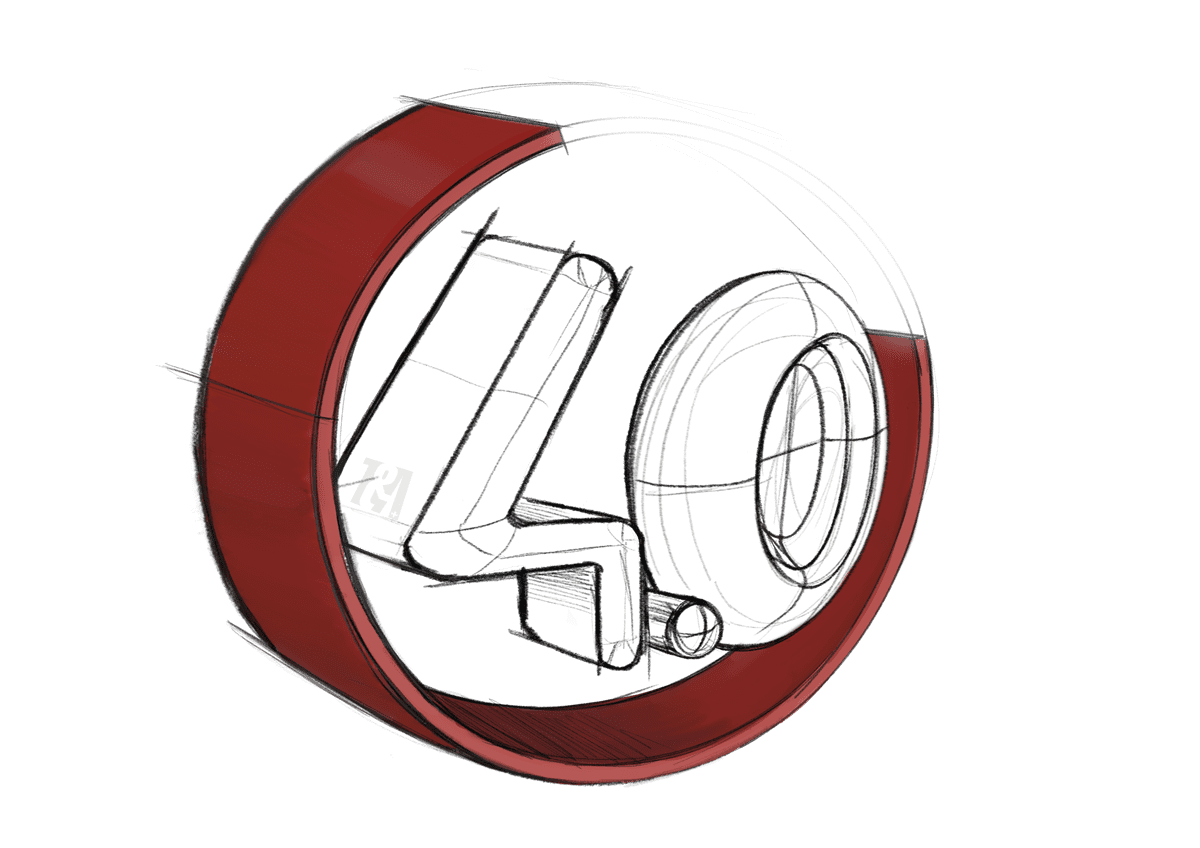 EFFICIENCY & COMPETITIVENESS
ARE THE 2 KEY-DRIVERS OF THE PERFORMANCE
TRANSFORMED BY THE LEAN MANAGEMENT 4.0 METHODOLOGY IS A CONVENTIONAL EVOLUTION.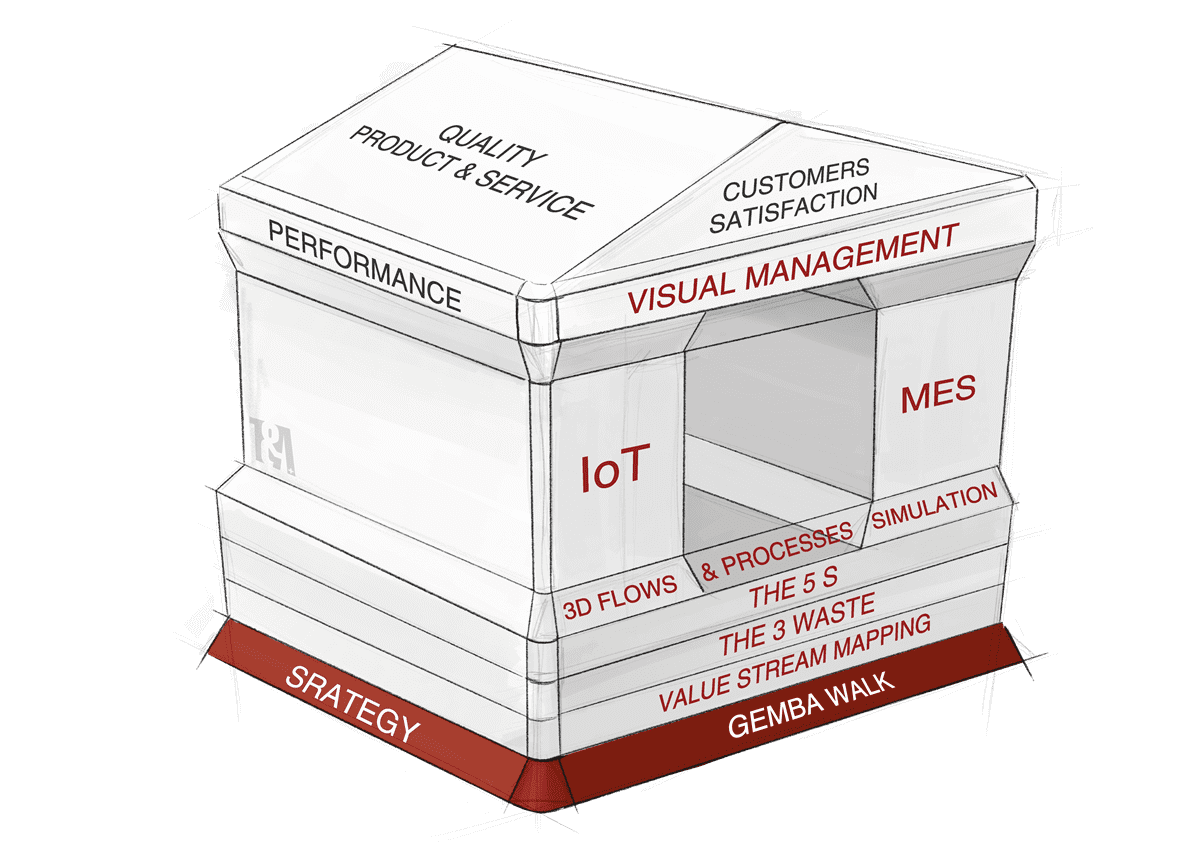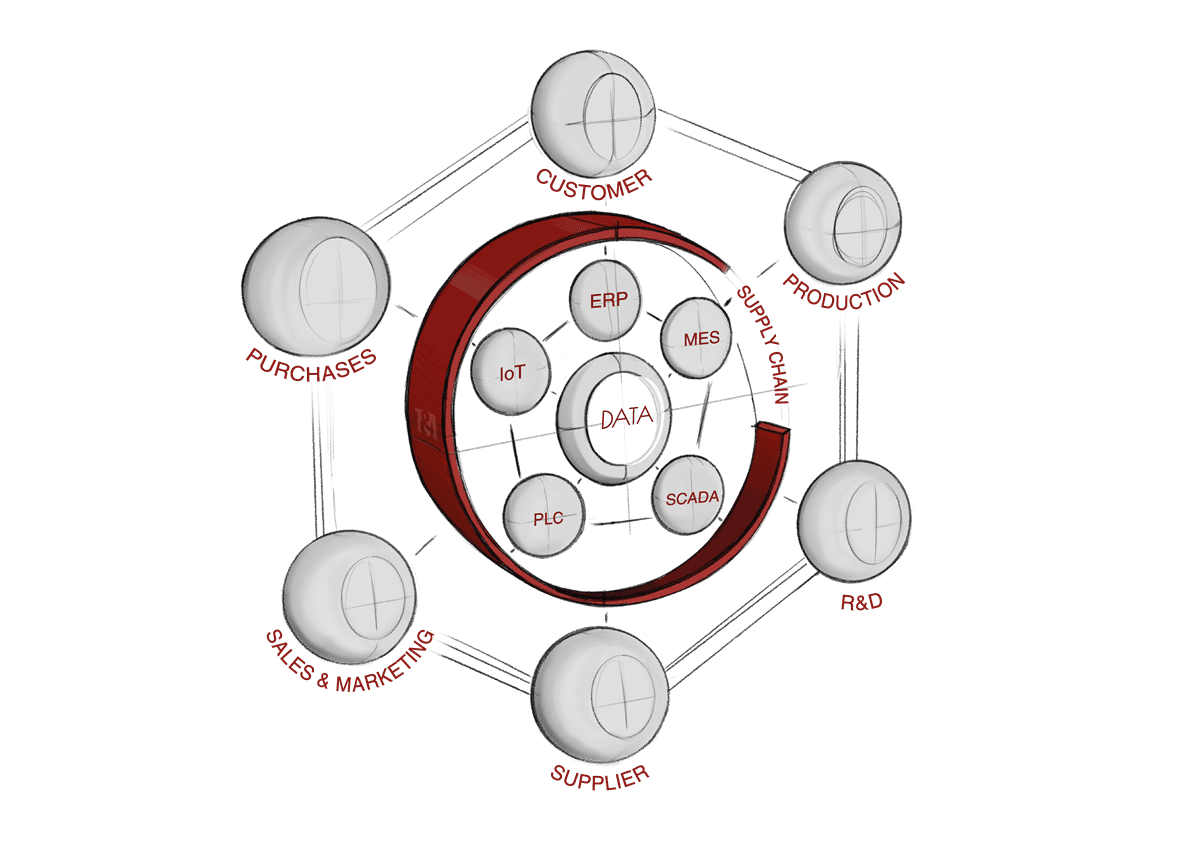 EFFICIENCY AND COMPETITIVENESS
TRANSFORMED BY INDUSTRY 4.0 CONCEPT IS A DISRUPTIVE [R]EVOLUTION.
WHICH LEVER SHOULD BE USED TO INCREASE OVERALL PERFORMANCE?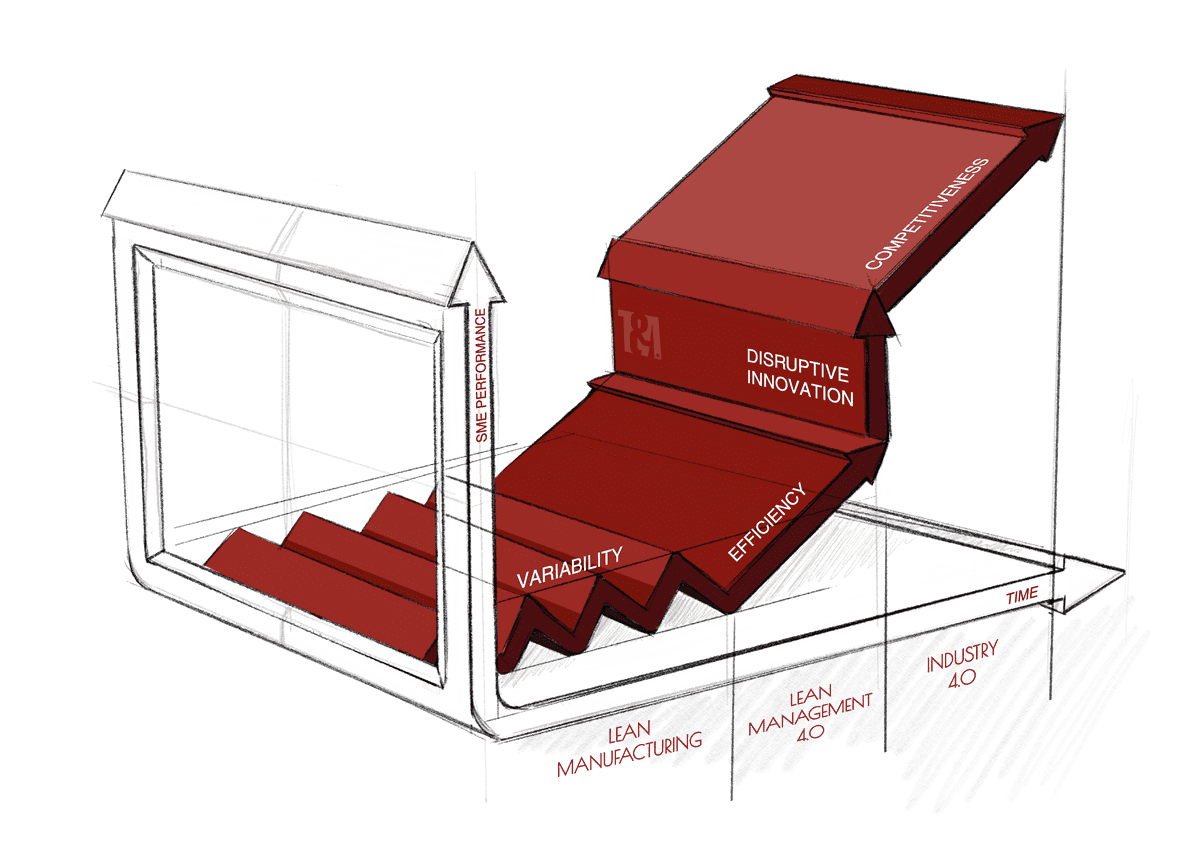 Transforms the EFFICIENCY and COMPETITIVENESS of the company as a whole.
Transforms EFFICIENCY at all levels of the company.
Stabilizes the VARIABILITY of the production mean.
WHAT RESULTS CAN WE EXPECT?
EFFICIENCy + COMPeTITIVENESS = +60%
COMBINING IMPROVED EFFICIENCY AND COMPETITIVENESS CAN LEAD THE COMPANY TO INCREASE ITS OVERALL PERFORMANCE BY MORE THAN 60%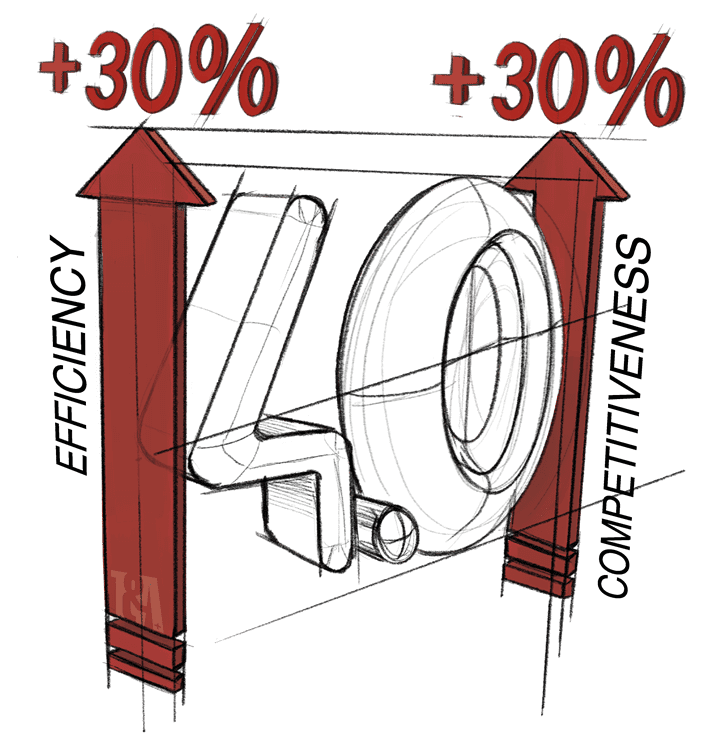 Improving EFFICIENCY through Kaizen and LEAN MANAGEMENT 4.0 can increase business performance by at least 30%.
Improving COMPETITIVENESS through Innovation, Transformation and INDUSTRY 4.0 can increase business performance by at least 30%.
WHAT ARE THE FUNDAMENTALS OF INNOVATION AND TRANSFORMATION?
Today more than ever, a company that wants to be successful and develop its business over the long term must, on the one hand, in an increasingly global, complex, competitive and technological market, fully control its EFFICIENCY and its COMPETITIVENESS in order to aim for OPERATIONAL EXCELLENCE, and on the other hand, to make Innovation a decisive advantage towards its competitors and customers.

The road that leads to Innovation through Agility and Transformation in order to design a SMART ENTERPRISE 4.0, is above all the development and implementation of a series of HUMAN-led company projects that must benefit from a CULTURE OF CHANGE deeply rooted within their organization. Without such a culture, nothing will be possible!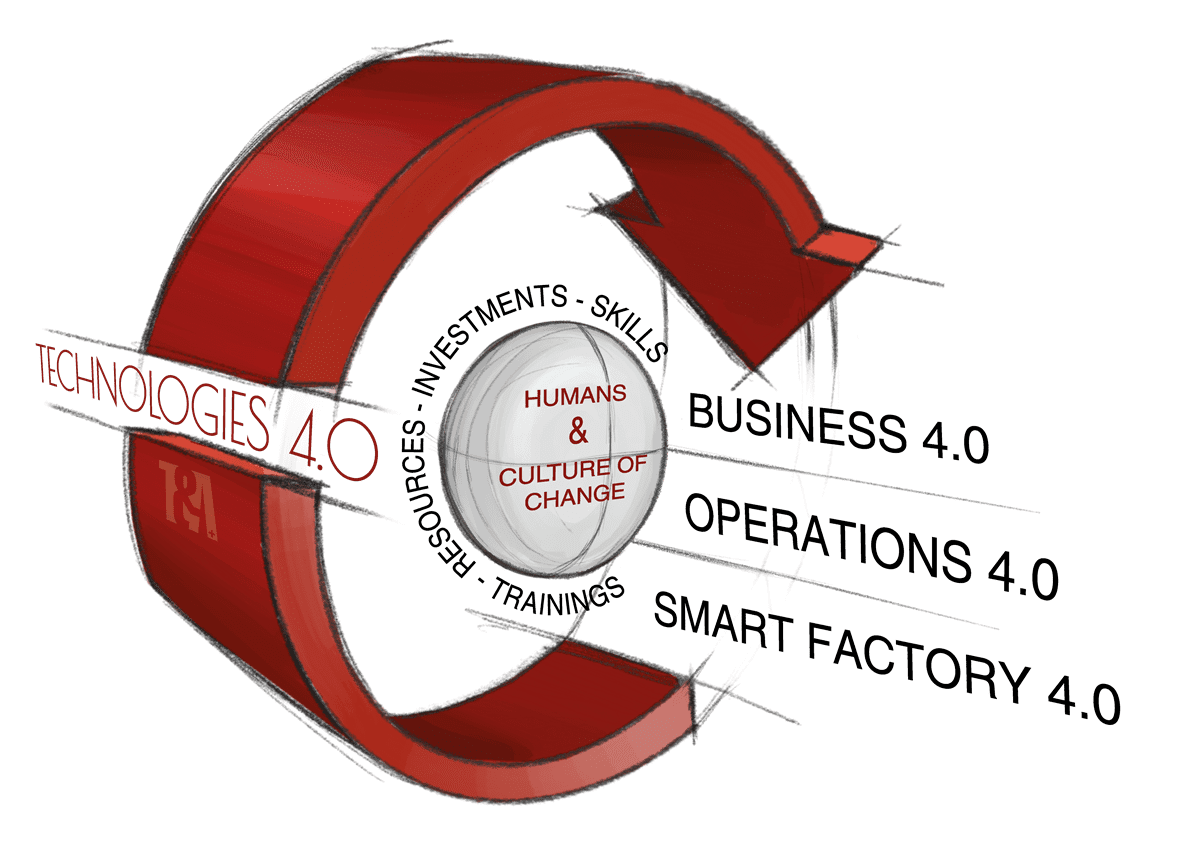 DATA ANALYTICS &
ARTIFICIAL INTELLIGENCE

New Technologies 4.0 are the components without which nothing would be possible in terms of Innovation and Transformation. They are numerous, but 2 of them are emerging: DATA ANALYTICS or BIG DATA and ARTIFICIAL INTELLIGENCE or AI. Other technologies such as machine learning or ML, deep learning or DL, Internet of things or IoT, virtual reality or VR, augmented reality or AR, cloud or cloud, physical and software robotics as well as automation also play a vital role. These new technologies will make it possible to carry out fundamental or even radical changes and transformations affecting the company as a whole, further merging the external and internal environments, in particular the 3 layers that are :
 BUSINESS
 OPERATIONS
 SMART FACTORY

STRATEGY & BUSINESS MODEL
CRM - CUSTOMER RELATIONSHIP MANAGEMENT

Be or become the leader in its market, be different from its competitors from a technological point of view, stand out vis-à-vis its customers through the functioning of its organization in order to ensure the growth of its business in a world where everything is accelerating, is a huge challenge. IT systems such as CRM or Customer Relationship Management, thanks to Artificial Intelligence, are in the process of radically disrupting the way of interacting between customers and their suppliers. Thanks to connected systems that are becoming more and more intelligent, never in the history of mankind, technologies have been so efficient. They offer businesses unparalleled opportunities to develop new STRATEGIES and new BUSINESS MODELS.
SCM - SUPPLY CHAIN MANAGEMENT
Faster, even faster, always faster ... ever more complex supply circuits, ever more demanding logistics flows, increasingly distant distribution circuits, increasingly short product availability will make that the organizations, structures and infrastructures of companies will have to move from a static hierarchical model to a dynamic systemic model. The way to operate between employees and the way to operate companies require new operational models, especially at the level of  SUPPLY CHAIN MANAGEMENT - SCM.
SMART FACTORY 4.0
PLM - PRODUCT LIFE MANAGEMENT
The way in which companies have designed, developed and manufactured products until now is about to be completely turned upside down thanks to new 4.0 technologies and thanks to the concept of PRODUCT LIFE MANAGEMENT or PLM. Imagine a fully intelligent, connected and automated production unit or SMART FACTORY 4.0 whose systems are in constant contact with the product it manufactures thanks to AI and data exchange. Such an advance allows, from design to delivery, to know and trace, continuously; the state, location and lifecycle of the product - PLM within the company or in its environment of use at the customer.
Lean Management 4.0 and Industry 4.0 are new industrial concepts which require new professions and consequently new SKILLS in order to develop new COMPETENCES. It is therefore essential that companies anticipate their needs, in terms of education/training their employees, if they intend to remain competitive and attractive on the employment market. Young engineers from higher education institutions are, by definition, only attracted to companies that have an innovation and change culture.
WHAT IS THE STRATEGIC APPROACH TO ACHIEVE THE PERFORMANCE?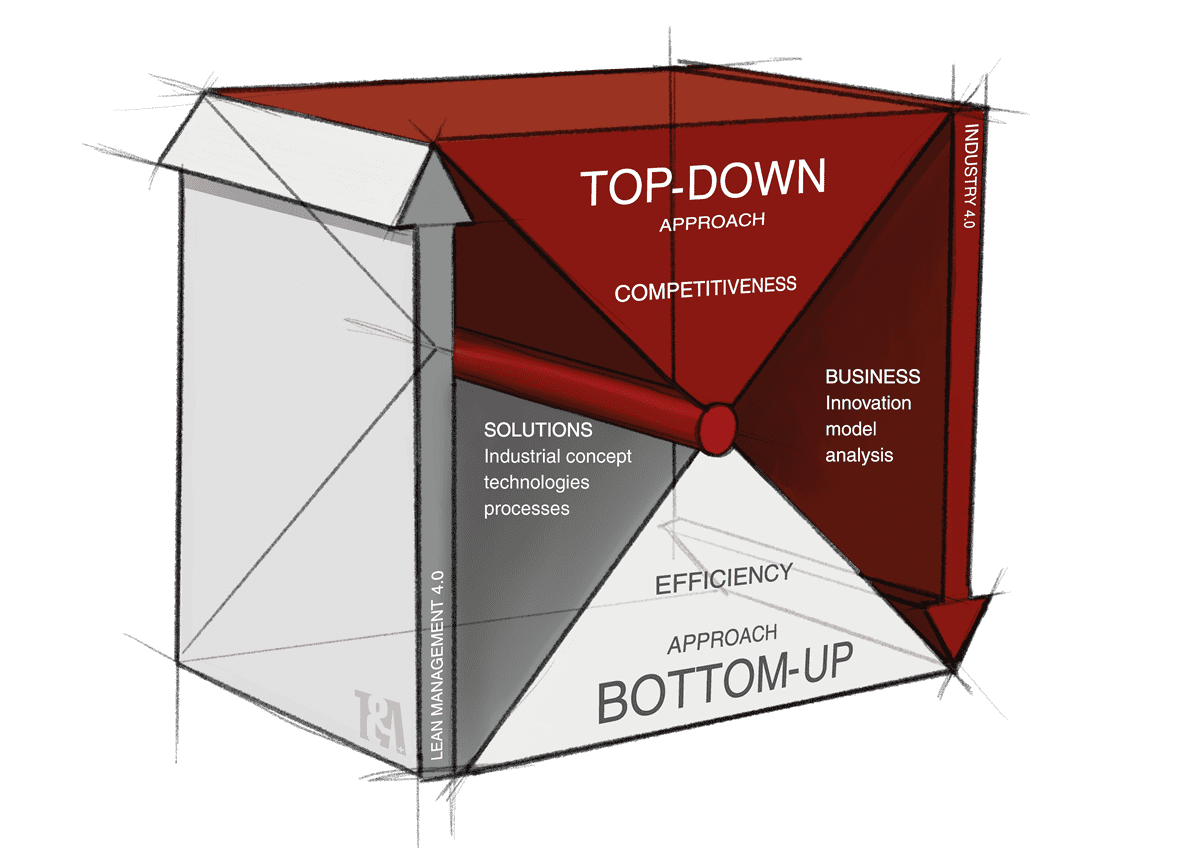 2 COMPLEMENTARY APPROACHES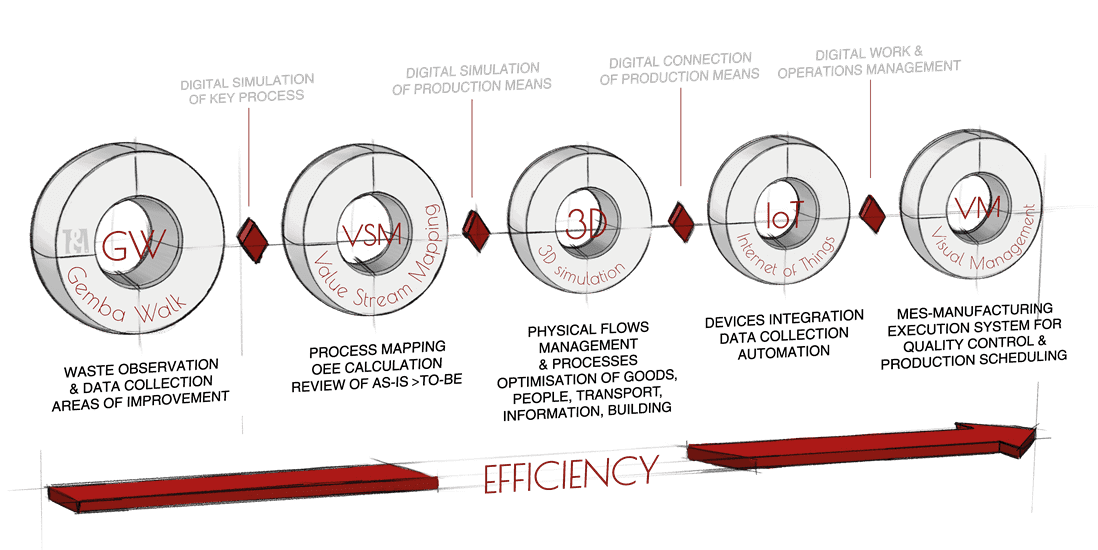 GW -- VSM -- 3D -- IoT -- VM
SOLUTIONS & TECHNOLOGIES

The BOTTOM-UP approach is a LEAN MANAGEMENT 4.0 way called CONVENTIONAL, in 5 phases, oriented towards solutions and technologies.

It wants to be very pragmatic in the sense that the company immediately sets up TECHNOLOGICAL SOLUTIONS thanks to the application of the methodology of LEAN MANAGEMENT 4.0 and certain components of INDUSTRY 4.0. Each of the 5 steps substantially increases the performance of the production mean.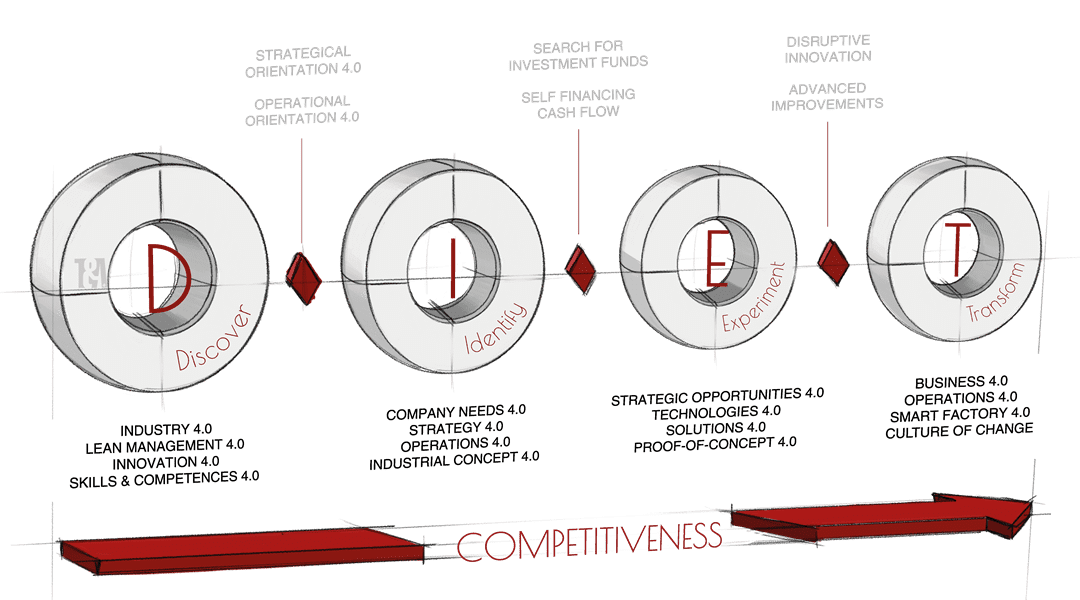 D -- I -- E -- T
INNOVATION & BUSINESS
The TOP-DOWN approach is a way towards INDUSTRY 4.0, known as DISRUPTIVE, in 4 phases, oriented towards business, innovation and transformation.

It makes it possible to acquire competences, develop skills, identify NEEDS, define the company's STRATEGY and set STRATEGIC OBJECTIVES in the short, medium and long term in order to define a new 4.0 industrial concept before any velocity, implementation of technologies, innovation or transformation.
OUR SERVICES & SOLUTIONS OFFER
WE SUPPORT SMEs, END-TO-END, DURING THEIR INDUSTRIAL TRANSFORMATION 4.0
Facilitation
Accompaniement
Advisory & Coaching
Project
Ad-interim position
Company training
Seminar
Workshop
Focus group
Practical experimentation fot Industry 4.0
Practical experimentations for Lean Office
Practical experimentations for Lean Management 4.0
VSM | Value Stream Mapping
3D Simulation - Physical flows
IoT | Internet of Things
VM | Visual Management | MES 4.0
DATA | Collection, Processing, Analysis
Industry 4.0